Asian Beauties Magazine

and
Shaved Orientails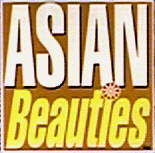 These are the real magazines: Asian Beauties and Shaved Orientails
You must be 21 years of age or older to access this Web Site. Misrepresenting your age in order to gain access to this site may be a violation of local, state and federal law. If you are not 21 years old, you must disconnect from our site.

You are about to enter an ADULT ONLY area .
By proceeding beyond this page you agree to this WARNING and terms.
We do not condone this activity as normal sexual behaviour. It is presented here merely as entertainment. All models appearing in this production were over 18 at the time of photography
---
(c) 2000 MC Studios Inc all rights reserved